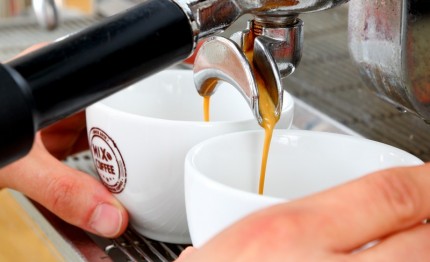 HOW DO WE SERVE COFFEE?
We recommend drinking it without any sweetening additives. Thanks to the high quality of the beans and skilful brewing, our coffee is characterised by natural sweetness. However, we also understand those who treat it as a dessert. Especially for them we have prepared some most excellent flavoured syrups! But we know from experience that whoever has once tried our coffee brewed by a professional barista, will soon permanently give up adding sugar…
Already soon after grinding, coffee starts to lose some of its qualities and the properties of the essential oils. The longer we tarry with brewing it, the more of the aromas escape and the taste gets weaker. In order to prevent this and serve your guests the best coffee with the best preserved depth of taste – we grind it first upon receiving the order. Directly and especially for this particular cup of the black gold that we wish to share with you!
WHAT MAKES US UNIQUE?
We know the coffee from the bean. From the core of its taste and aroma. Literally: we have our own coffee plantations in Papua New Guinea. We cultivate them there according to traditional recommendations, in compliance with the knowledge of the local population who hand down the family secrets of cultivation from generation to generation, to new trainees of this unusual art. We also have our own coffee roasting plant where we polish its noble flavours, varieties and unique natural aromas.
Our coffees are freshly roasted. We adjust the roast profile to the type of coffee, appropriately differentiating its fragrance and taste. Thanks to the careful inspection of every stage of production, we are able to prepare coffees that are naturally sweet (without any sugar added), with unique colour and depth of taste. Our long-standing experience and the skills learned from the Papuan growers and practiced for years enable us to extract the natural sweetness from each bean of our plantation.